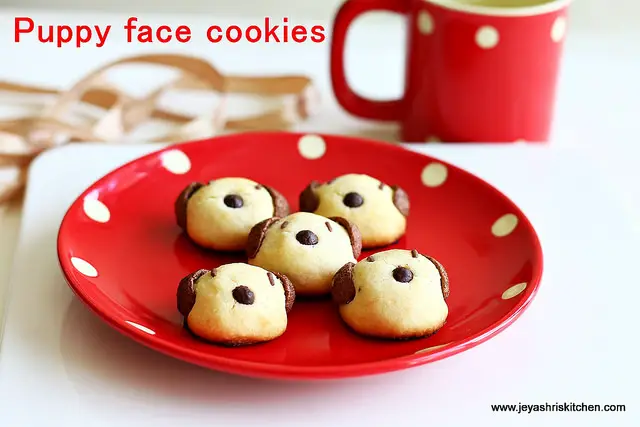 Puppy face is a normal plain eggless cookies bu the shape only look like a puppy. It is easy to decorate the cookies with easily available ingredients.Surprise your kids with this cute cookies. I made for the Christmas party at kids school. All the kids were super excited and happily had this cookies. I got this idea through a reader who sent me this cute pictures for her daughter and asked me to give it a try. On the moment i saw these i decided to make it on the next day. I took the plain cookies recipes from my Pinwheel cookies recipe and few you tube links showed me how to make the puppy face. Try this out for this Christmas and enjoy the cookies.

Puppy face cookies
  Preparation Time : 20 mins | Cooking Time : 15 Mins |Makes: 20 cookies
     Plain flour    1 cup
     Butter        1/2 cup
     Vanilla essence  1/4 tsp
     Sugar    1/4 cup
     Chocolate  chips   few
     Chocolate vermicelli  few
     Salt     a pinch
     Chocos     few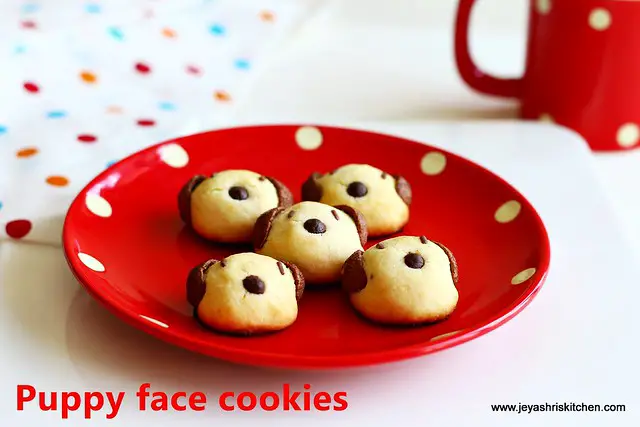 Method:
Add powdered sugar and butter in a bowl. Mix this well.
Add this mixture to flour and add vanilla essence.
Mix well and make this into a pliable dough. If needed add few drops of milk while kneading.
Knead this into a smooth dough.
| | |
| --- | --- |
| | |
Make equal sized balls with the dough. Keep the chocolate vermicelli for the eyes of the puppy and chocolate chip for the nose.
| | |
| --- | --- |
| | |
Keep the Chocos for the ears and repeat this for the rest of the dough.
Keep the cookies in a baking tray lined with parchment paper.
| | |
| --- | --- |
| | |
Bake this in a preheated Oven for 10 to 12 minutes at 160 degrees C.
Allow this to completely cool.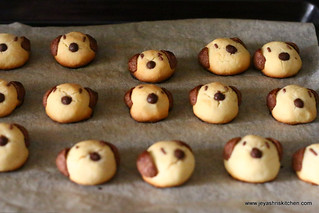 Even if you feel the cookies are slightly soft, don't worry, it will be crunchy once it is cool