Sweet corn pasta , this is a creamy tomato based pasta cooked with sweet corn and other veggies of your choice. I have recently tasted this pasta in my friends house. Few weeks back she invited us for dinner and the spread was amazing. She is a very good baker and the menu had a wonderful spread of varieties of recipes. She made delicious Pizza, Soup, noodles and this pasta too. Without fail i noted down the recipe of the sweet corn pasta from her. This recipe she adapted from Tarla Dalal cook book. It turned out very well and every one liked it very much. For sure, kids will love this spaghetti sweet corn pasta. Check out my mushroom pasta and pumpkin pasta too.

Sweet corn pasta recipe
Preparation Time : 15 mins | Cooking Time : 25 Mins |Serves: 3
Spaghetti pasta 2 cups (broken)
Onion 1
Tomato 1/2
Sweet corn 1/4 cup
Olives 7 (optional)
Celery 1 tblsp
Capsicum 2 tbslp
Oil + butter 1 tblsp
Fresh cream 1/4 cup
Tomato ketchup 2 tblsp
Chili sauce 1 tblsp
Oregano 2 pinches
Salt as needed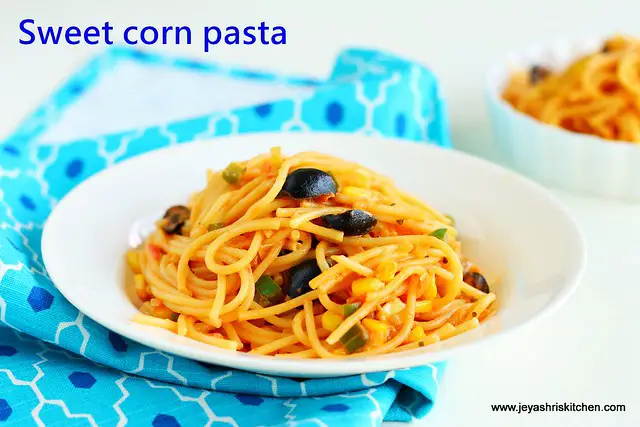 Method:
Cook the spaghetti pasta by adding few drops of oil and little salt. Soak the pasta for 10 minutes and cook, this will give best results and gets cooked soon. Drain the water and cover it and keep it aside. Reserve 2 tblsp of the the water before draining.

Finely chop the onions, celery and capsicum . De seed the tomato and chop them finely. Cook the corn kernels or you can use the frozen ones too. If using olives chop them into two.
In a pan add butter and oil and add the onions.

Cook till the onions turns pink and add the celery, capsicum and tomato one by one. Cook for 3 minutes in a medium flame.

Add the sweet corn and olives to this.
Add the tomato ketchup and the chili sauce. I used the store bought ketchup and the chili garlic sauce.

Mix well and cook for a minute.
Now add the fresh cream and mix well. Add the cooked spaghetti to this. Add the reserved water which we kept after draining the spaghetti.

Mix evenly and add the oregano flakes to this. Mix again.
I didn't add any salt to the veggie mix. As the sauces has salt in it, i felt it is sufficient.
Only while cooking the spaghetti i added the salt.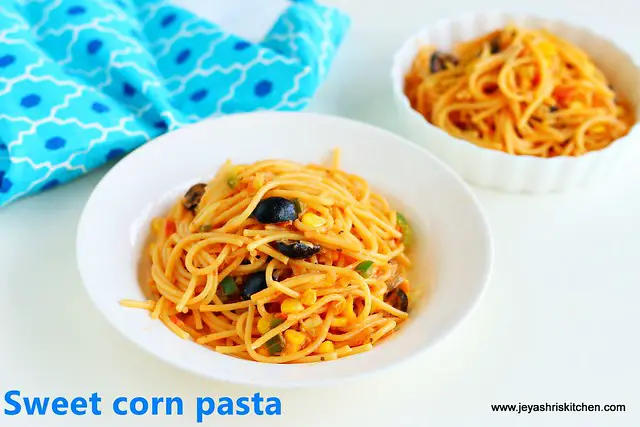 Notes:
Instead of tomato ketchup and garlic sauce you can add 1/4 cup of pasta sauce too.
Fresh cream gives the taste to the pasta so do not skip that.
You can use any pasta of your choice.
You can garnish with grated cheese before serving.
You can replace pasta with noodles too.