Tandoori tofu is a vegan version of paneer tikka, marinated in flavourful spices and cooked on the tawa. Already i have posted paneer tikka and hariyali paneer tikka. Last week , a friend of mine visited us for dinner. I planned the menu for the dinner but was struck with what to make for starter. I didn't have paneer cubes at home , but i had a block of tofu which i had bought for making a sweet and sour gravy(recipe coming up soon). So decided to make this tandoori tofu and it turned out very well too. Everyone liked it and compared to paneer tofu is quite healthy too. I wanted to post this easy starter recipe of  bite sized tandoori tofu and made it again yesterday. Check out my Tandoori gobi recipe and sweet and sour tofu recipe too.

Tandoori Tofu
  Preparation Time : 15 mins + 4 hours marination | Cooking Time : 25 Mins |Serves: 3-4
     Tofu cubes   1 cup
     Onion    1
     Capsicum | bell pepper   1/2
     Tandoori masala   1 tsp
     Red chili powder   1/2 tsp
     Thick yogurt   1/4 cup
     Salt    to taste
     Soya sauce    1 tsp 
     Kasoori methi  2 pinches
     Chaat masala   to sprinkle 
     Oil    1-2 tblsp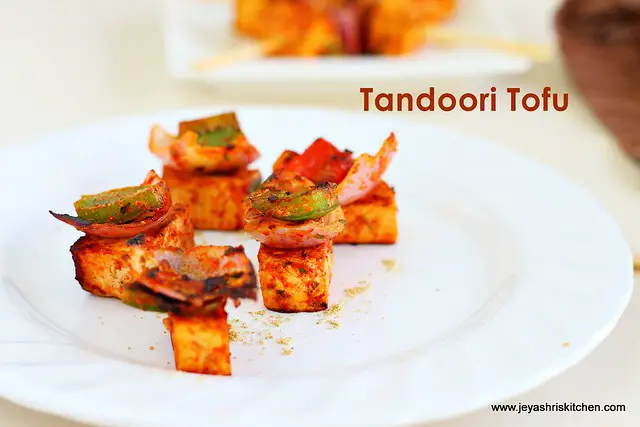 Method:
Press the excess water from tofu and cut them into cubes.
Put the yogurt in the tea strainer for 15 minutes to drain out the excess liquid.
Cut the onion and capsicum into cubes. I used the red and green color capsicum.
Add everything in a bowl.

Add yogurt, red chili powder, soya sauce, tandoori masala and salt.

Mix well with your hands and add kasoori methi powder. If you want you can add chaat masala now. If adding now add 1/2 tsp of chaat masala. I prefer to sprinkle it just before serving. Mix well.
Keep this in the refrigerator for 4 hours or overnight too. The more it gets marinated the spices will get infused into it. If you are in a hurry marinate it for 2 hours atleast.

Heat a dosa pan and add little oil to it. Spread the marinated items on the tawa and keep the flame medium. Cook this on all sides till it gets nice brown color.

Once it is warm stick it in a tooth pick or skewers. I served it in the mini skewers as a bite sized tandoori tofu.

Serve it hot. If you have not added chaat masala while marinating sprinkle it just before serving.
Repeat the same for the rest of the marinated tofu mixture.  Sprinkle little oil on the pan every time .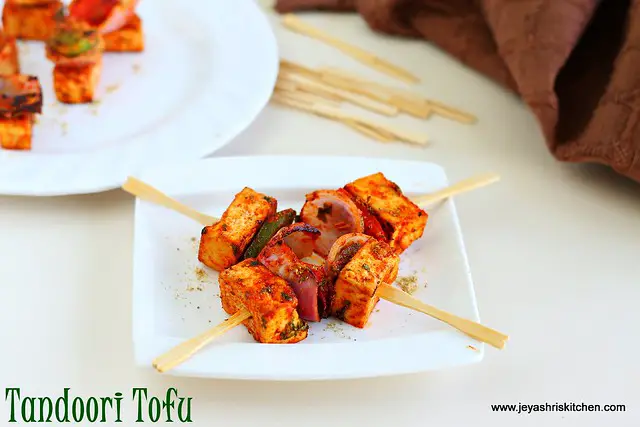 Notes:
You can serve this with green chutney.
You can add amchoor powder while marinating the tofu.
Soya sauce gives a nice flavour to this but feel free to skip this if you do not want to add.
You can follow my hariyali paneer tikka recipe and replace paneer with tofu.
Broccoli can be added while marinating.
You can add ginger garlic paste while marinating.
You can add fresh cream while marinating to get a rich taste. Add 1 tblsp of cream for this quantity. If you feel it is excess add 1-2 tblsp of roasted besan (kadalai maavu)| roasted channa dal powder to this while marinating.