Ennai Kathirikkai kuzhambu recipe with full video and step-by-step pictures. A popular South Indian gravy recipe made by stuffing freshly ground masala inside the mini eggplants and cooked in Tamarind-based gravy.
This is an exotic South Indian gravy that pairs well with plain rice and a simple appalam. We can make this recipe without the addition of small onions and make it a no garlic no version.
Also, check out Ennai kathirikai curry, stuffed brinjal curry, Andhra style Gutti vankaya kura.
Ennai Kathrikai kuzhambu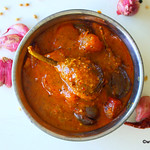 Recipe Cusine: Indian
Prep Time: 20 Minutes
Cook time: 20 Minutes
Serves: 4
Author: Jeyashri
Recipe Category: Lunch | Dinner
Description: Brinjals stuffed with the fresh spice mix and cooked in flavourful tamarind gravy.
For the spice powder
    Coriander seeds 1/2 tblsp
    Chana dal 1/2 tblsp
Urad dal 1/2 tblsp
    Whole black pepper 1/2 tsp
Red chili 2
     Toor dal 1/2 tblsp
     Coconut 1 tbslp (optional)
     Garlic 1 clove (optional)
Other Ingredients:
    
Sesame oil 3 tblsp + 3 tsp
    Mustard seeds   1/4 tsp
    Eggplants | brinjal 10
    Small onions a handful
    Tamarind  a gooseberry size 
    Sambar powder   3 tsp
    Turmeric powder  1/2 tsp
    Salt  as needed
    Mustard  seeds  1/4 tsp
    Curry leaves   few
                                  Video of how to make Ennai kathrikkai kuzhambu

METHOD:
Soak the tamarind in hot water for 10 minutes. Extract the tamarind juice using 1 and 1/2 cup water.
Dry roast all the items except coconut till golden brown.

If using coconut, dry roast them separately.
Allow it to cool and make it into a fine powder.

Slit the brinjals into 4 parts. Do not cut this fully.
Stuff the spice powder into this and keep it aside. Repeat this for the rest of the brinjals.

In a pan add oil and sesame oil. Throw in the mustard seeds and curry leaves.
Peel the skin of the small onion and add this and fry till it turns golden brown color.

Add the stuffed brinjals and fry for some time.

Now add the tamarind extract.
Add in the sambar powder, turmeric powder, and salt.

Boil for 10 mins till you reach the right consistency.

When it is done, transfer to a serving bowl and add a tsp of sesame oil on top.
Enjoy any kootu of your choice.