Uppu Seedai we make for gokulashtami and the festival is nearing i wanted to post the uppu seedai recipe ,a traditional snack. I used to do this every year and the recipe i got from a tamil magazine "Mangayar Malar" some 8 years back. Till date i am following the same instruction. I can confidently make seedai without the fear of seedai getting burst.Check out my
Check out this post, where my mom explains the tips and tricks to make uppu seedai and vella seedai. Check out our collection of Janmashtami recipes
Uppu seedai
Preparation Time : 30 mins | Cooking Time : 40 mins |Makes: 1 cup
Home made rice flour 1 cup
Urad dal flour 1 tsp
Coconut (grated) 1 tblsp
Sesame seeds 1 tsp
Cumin | jeera 1/4 tsp (optional)
Butter 1 tblsp
Oil for deep frying
Coconut oil few drops (optional)
Salt as needed
Video of seedai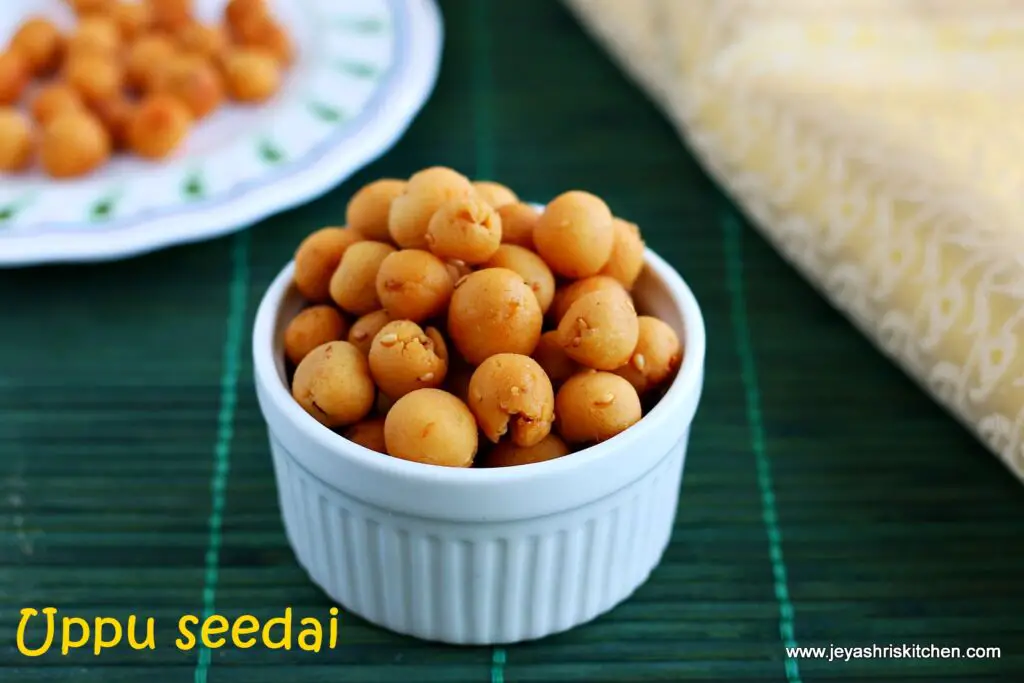 Method:
.For urad dhal Flour:
Dry roast 4 tblsp of urad dhal in a pan

Just roast till golden brown.
When it is cool, make it a fine powder in a mixie.

Roast the rice flour and urad dal flour in a dry pan on low flame . Be careful not to change the colour. Roast for 1-2 mins.
Sieve this flour and roast it again.
Repeat this process twice.

In the pan add the sesame seeds and roast till slightly brown. roast the coconut also till golden brown.

In a wide bowl add the roasted flour, butter, cumin seeds (if adding,no need to roast) roasted sesame seeds, coconut, and salt. Sprinkle water little by little and make it into a smooth soft pliable dough.

The dough should not be too tight. Otherwise the seedai will get cracked.
Make it into small balls by greasing your hands with coconut oil and spread them in a newspaper.
Do not roll them too hard, Just gently roll them and do not over do.

Heat oil in a pan for deep frying.
When the becomes hot, keep the flame in medium low.
Throw in the seedai balls to the oil.
Fry till the oil sound subsides.
Take out from hot oil and drain in a kitchen towel.

Repeat the same procedure for the rest of the seedais.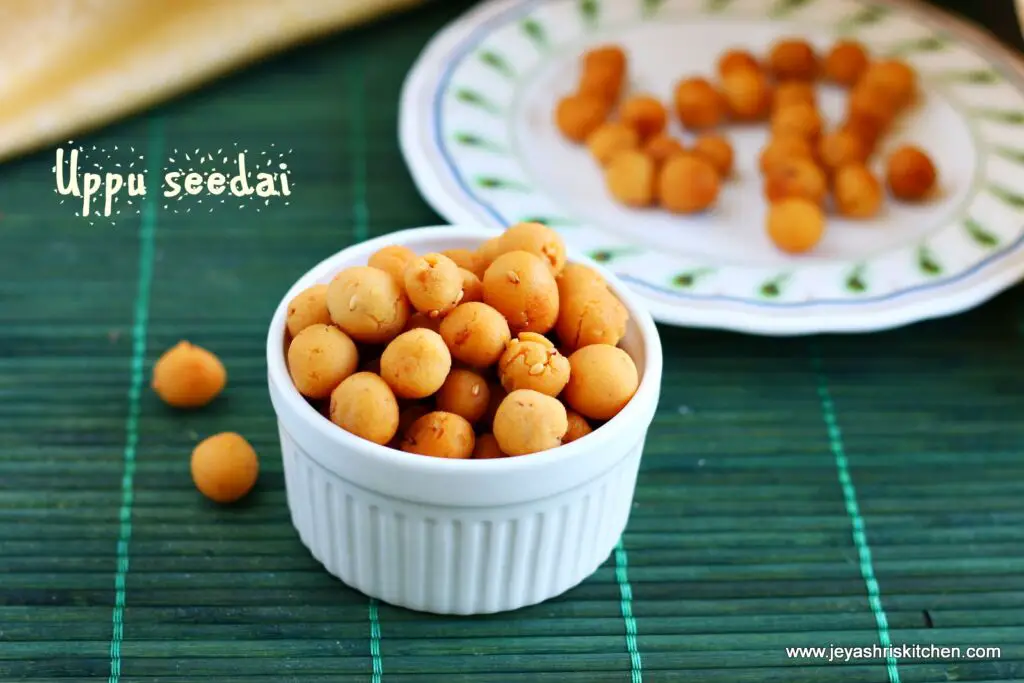 Notes:
Always roast the flour and sieve them twice.
While adding cumin seeds, sesame seeds, coconut check whether all the impurities are removed. Even a small stone or dust particle will make the seedai burst.
The seedai has to be fried in a medium low flame, as this will make it cook them inside too.
You can use store bought rice flour too.
Idiyapam flour will not work out well uppu seedais.