Recipe updated with video
Vella Cheedai| Vella Seedai recipe is a very popular sweet made during Gokulashtami/Krishna
Jayanthi in Tamil Nadu, Deep-fried sweet balls made of jaggery and rice flour.. For a long time, I found making Vella Cheedai quite tricky as I failed many a times while trying to make them. Either the vella cheedais would become hard or completely dissolve when immersed in oil. Last Saturday, all of a sudden, I thought of giving this vella cheedai a try once again. It started off well and just when I started adding the cheedais in oil, the whole thing turned into a disaster. No marks for guessing that the cheedais got completely dissolved in oil. Though I felt a little bad, I did not give up and made a fresh batch after taking a few tips from my friend's mother. I was overjoyed on getting perfect vella seedais and now I can happily say that I can make vella cheedais with ease. I have updated the recipe with Video. I have also posted a salted version of these cheedais.  Check out my uppu seedai recipe.  Check out my full collection of Janmashtami | Krishna jayanthi recipes.  Do see this post with detailed tips and tricks on making seedai with a video by my mom. 
Vella seedai recipe
  Preparation Time : 45 mins | Cooking Time :1 hour  |Makes: 40 seedais approx.
     Home made rice flour   1 cup
     Roasted urad dal flour  1 tblsp
     Jaggery   1/2 cup
     Butter   2 tblsp
     Sesame seeds   1 tsp
     Grated coconut   2 tblsp
     Elachi powder  a pinch
     Oil    for deep frying
     Ghee  1/2 tsp


                               Video for vella seedai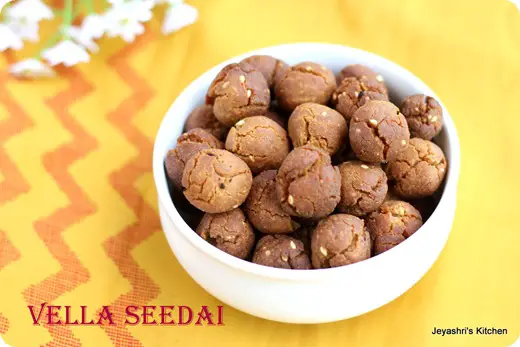 Method:
To make Urad dal flour:
Dry roast 4 tblsp of urad dhal in a pan.
Just roast till golden brown.
When it is cool, make it a fine powder in a mixie.
Sieve the flour twice.
Keep the flour in a airtight container till you use.

Roast the rice flour and urad dal flour in a dry pan on low flame . Be careful not to change the colour. Roast for 1-2 mins.
Sieve this flour and roast it again.
Repeat this process twice.

Be very careful not to over roast the flour by changing the colour.
Keep it aside.
To make Vella Seedai:
In a dry pan roast the sesame seeds  till they become golden brown colour. Add it to the sieved flour.

In a dry pan roast the coconut till they become golden brown colour. Add it to the sieved flour.

Add butter and cardamom powder to this.
In a saucepan add the jaggery and add 2 tblsp of water to this.
Melt the jaggery and boil till it comes to a rolling boil.

Switch off the flame and slowly filter the jaggery water and add it to the flour mixture and mix this gently with the spoon.
Make it into a pliable tight dough.

Either you may end up in leaving a few tblsp of jaggery water or you may tend to add 2-3 tblsp of water to make it a tight dough.
I added 2 tblsp of water to make it into a dough.
Roll them into a small balls( slightly bigger than uppu seedai)
spread them in a Kitchen towel or a newspaper as it will absorb the excess moisture.Let this sit for 10 minutes.
Heat the oil for deep frying.
Slowly drop the seedai balls in oil in small batches.
Do not add too much in oil at a time

Keep the flame in medium low else it will not get cooked inside.
When it becomes nice brown color take out and drain in the kitchen towel.

Repeat the same process for the rest of the dough.
When it is completely cool store this in a airtight container.
It is common to get cracks in vella seedai after it is fried.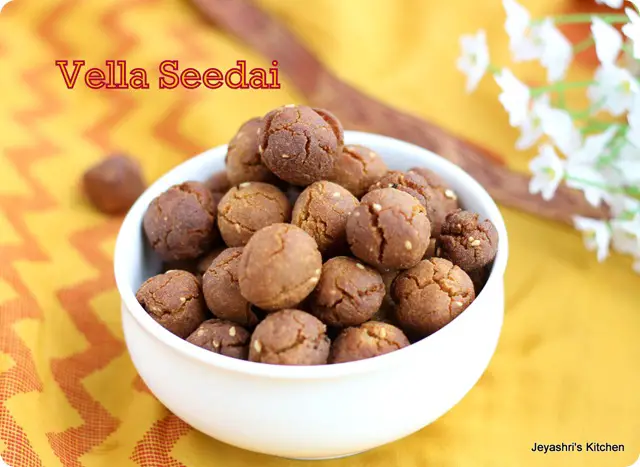 Tips for making perfect vella seedai:
Always roast the flour and sieve them twice. This will avoid the seedai from bursting.
If the jaggery is too much and the dough is little soft the seedai will dissolve in oil once you drop them.
So always ensure that the dough is tight. Even you are left with a few spoons of jaggery water doesn't matter.
Never skip to roast the sesame seeds and coconut.
You can use the store bought rice flour too.
Always cook the Vella seedai in low flame so that it will be cooked from inside too.