Actually i wanted to post a savory version of Kozhukattai , Uppu Kozhukattai , but few readers requested for ellu kozhukattai , so i wanted to post this ellu modakam today. Will be posting the uppu kozhukattai recipe tomorrow or sunday. Coming to the recipe of Ellu kozhukattai, though my mom or mil will not make this at home , but i asked a friend here and she told they make with the normal ellu urundai poornam. So let me share this easy recipe of modakam.
INGREDIENTS (FOR POORNAM) FOR 9 MODAKAM
| | |
| --- | --- |
| ELLU | TILL | SESAME SEEDS | 1/4 CUP |
| JAGGERY | 1-2 TBLSP |
| COCONUT | 1 TBLSP (OPTIONAL) |
FOR THE DOUGH
| | |
| --- | --- |
| IDIYAPPAM FLOUR | 1/2 CUP |
| WATER | AS NEEDED |
| SESAME OIL | 1 TSP |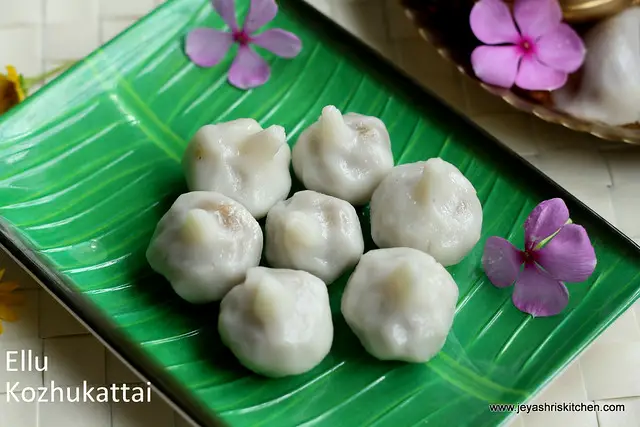 Video for how to shape Modakam
METHOD:
Dry roast the the sesame seeds and when it is cool grind this along with jaggery and coconut(if adding)
The oil in the sesame seeds makes this to come into a whole mass.
roll this into small balls.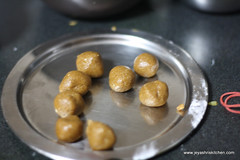 Make the dough by adding enough boiling hot water to the idiyappam flour.
Cover it for 2 minutes. when it is warm, grease your hands with sesame oil and knead into a pliable dough. Divide the dough into equal parts. Cover it else it will get dry.
Take a small portion of dough and with your fingers make it like a cup. Place the ellu urundai into this and make it into a modak shape.
Repeat this for the rest of the dough. Steam this in a idli maker and steam for 10 minutes.
Ellu kozhukattais are ready for neivedhyam.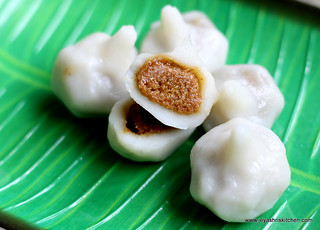 I made this using white sesame seeds. You can use black sesame seeds too.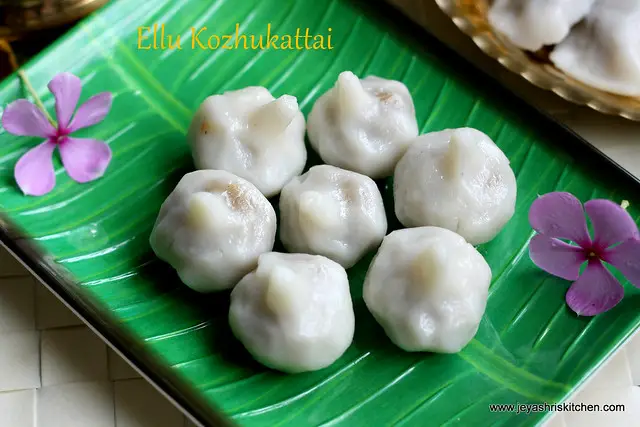 Note:
I found 1 tblsp jaggery will be enough for the ellu poornam.