Kuska Biryani is a popular one in Tamilnadu especially in the village side. Basically Kuska biryani is made using Seerga samba rice and this biryani doesn't have any veggies in this. Usually it is paired with a kurma. I have first tasted this Kuska biryani in my childhood through our neighbor aunty, who introduced so many yummy delicacies to me.
The addition of coconut milk and whole spices makes it so rich and tasty. This week's lunch menu comes with a yummy combo of Kuska biryani and pattani kurma. Also we have Kurunai vadai, which i learnt from the same aunty. And to top all, i made elaneer payasam for dessert. My daughter was asking me to make Elaneer payasam for a long time. Finally made this yesterday for the weekend lunch menu.
Check out the Collection of Indian lunch menu ideas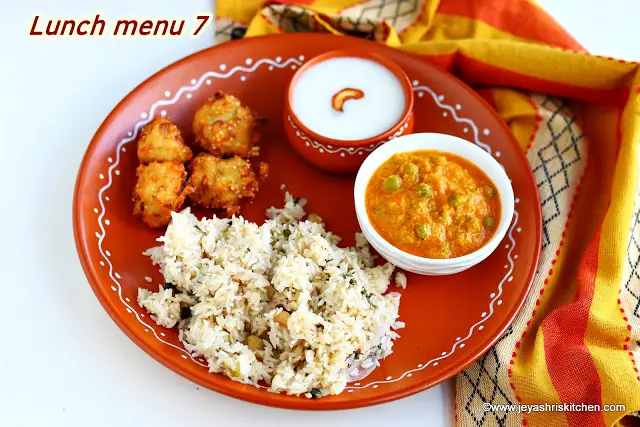 This week's lunch menu has
I kept little plain rice for curd rice, but as such the menu was filling, no one took the plain rice with curd. You can replace pattani kurma with potato kurma or baby corn kurma.