Kuska | kuska biryani is a plain biryani done without any veggies. This kuska biryani is quite popular in Tamilnadu.  I was introduced to this kuska biryani by neighbour aunty in Madurai. She is an awesome cook and i have posted recipes which i learnt from her. This kuska biryani is generally accompanied by a simple raita and sometimes with a kurma. Kuska is a variety of biryani made without adding any veggies. Everyone has their own way of making kuska, and i exactly followed aunty's method. Her daughter passed on the recipe to me over phone last month. As many festivals were lined up i didn't hav time to try out this kuska recipe. Finally tried it yesterday and loved the flavour and taste of the biryani very much. I served with peas kurma and onion raita. Generally this kuska biryani is made with seeraga samba arisi, which we get in most of the grocery shops in South India. Alternatively you can use basmati rice too. This seeraga samba rice can be used for maing thakkali biryani and paal payasam too.

Kuska biryani recipe
  Preparation Time : 15 mins | Cooking Time : 25 Mins |Serves: 2-3
     Seeraga samba rice*   1 cup
     Coconut milk   1/2 cup
     Coconut oil   1 tblsp
     Bay leaf   2
    Cardamom   2 pods
    Green chili   2
    Onion   1
    Mint and coriander leaves  a handful
    Water   1 cup
    Salt  as needed   
    Cinnamom + clove   1/2 tsp (powdered)
    Cashew nuts   few  (optional)
  *You can use basmati rice too.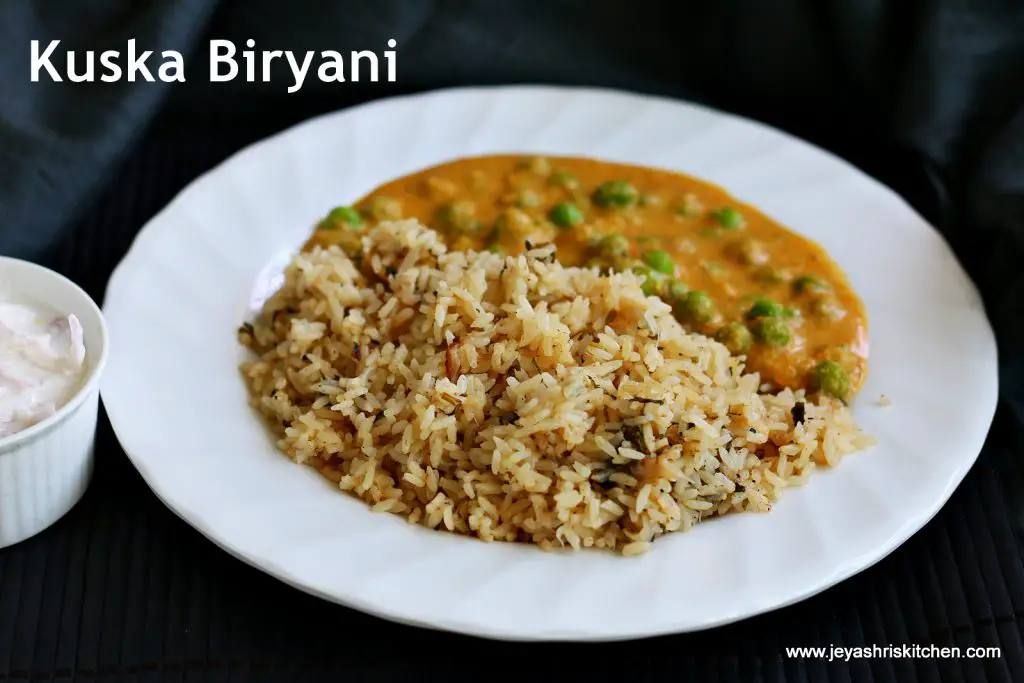 Method:
Slice the onion lengthwise. Chop the coriander leaves and mint leaves finely.
Slit the green chili into 2. Soak the rice in water for 10 minutes. If using basmati rice add 1 cup of water and 1/4 cup of coconut milk .
In a cooker or a heavy bottomed pan add coconut oil and add in the bay leaf, cardamom and the green chili.
Now add in the chopped onions.

Cook till the onions become translucent. Add the chopped coriander leaves and mint leaves.
Cook for few minutes.  Add in the cashew nuts. No need to cook it golden brown.

Add the powdered cinnamon and clove powder. You can also use little garam masala too. Just pound a small piece of cinnamon and cardamom using a mortar and pestle.
Add the coconut milk and water to the cooker.

Once the water mixture starts boiling add in the rice and add salt.
Cover the cooker and give one whistle. If using a pan, cook till 3/4 th of the rice is cooked.
After one whistle,  place the cooker on a heavy bottomed dosa tawa for 10 minutes. Keep the flame low.
Heat the pan first and put it to low flame.
If using a pan for making the kuska, cover the pan and then keep it on the dosa tawa.

Switch off the flame and once the pressure is released fluff it up with fork.

Serve with onion raita and any gravy of your choice.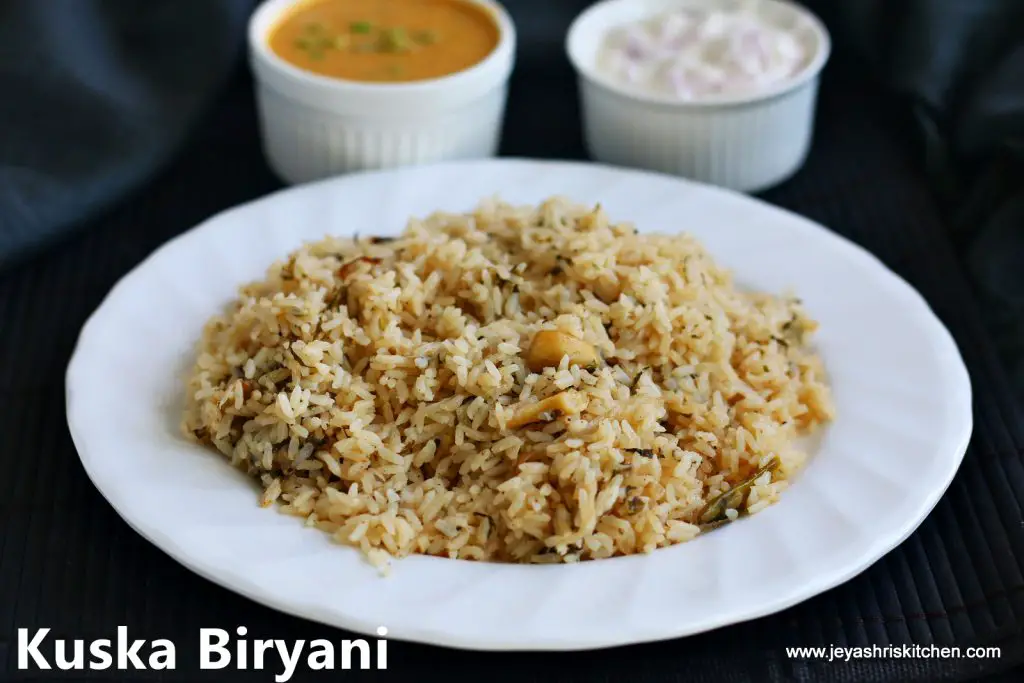 Potato kurma                                            Baby corn Kurma
Notes:
Use the water and the coconut milk as mentioned for 1 cup of rice.
If you want to use tomato, you can add while sauting the onions. Chop a small tomato and add it.
If you are serving only with raita, then add one more green chili to the rice to make it bit more spicy. The coconut milk in the rice suppress the spiciness.