My weight loss journey – This is not a sponsored post. Finally I could sit and write this post, which many of you are asking to do for the past 2 months.
Before I begin, let me put a disclaimer here. I approached a certified nutritionist and the diet was customised according to my health conditions and preferences. So please don't blindly follow any diet on your own. I also followed a proper workout regime, along with my diet.
Many of you who are follow Jeyashri's kitchen on YouTube and Instagram, have seen me in my videos and Navaratri posts and kept asking me about my weight loss. I was thinking of sharing about it for the past few weeks, but got tied up with regular work.
First of all, I didn't have any idea to lose weight, as I am not obese. I have had some pre-menopausal issues for the past few months. During the lockdown, to be precise, from March 2020, I came across a live session by Mrs. Shiny Surendran, a popular nutritionist from Chennai. I used to have this misconception, that only people who wanted to lose weight will go to a nutritionist. But Shiny's talk broke my misconceptions and gave me a wonderful insight into it.
After that, I started following her " Art of eating series" on Instagram. Hooked up by a holistic approach and doable tips, I messaged her on Instagram one day. I told her about my menopausal issues and she immediately told me that we can definitely reverse it with changes in my diet. That gave me a lot of confidence and I booked an appointment with her. The first thing she told after hearing about health issues, " This can be reversed through diet and fitness" Her words gave me immense confidence.
We spoke about my diet habits and she noticed that my intake of protein was very low and carbohydrates were more. A diet chart was curated to suit my health conditions. I was allowed to eat even white rice but I had to control my portions. Portion control was the most important aspect.
I had a huge sugar craving before I enrolled in my diet but after 20 days, it drastically reduced. Lack of protein in our meal leads to sugar cravings -This was the first lesson I learned in this journey.
It was not so hard to follow the diet as it was quite doable. The only thing I found a little tiring was chopping veggies because the majority of my diet consisted of incorporating vegetables. The team of Shiny and Karpagam really chiseled me and had a close follow up of my daily eating habits.
I was not allowed to take milk, sugar, and gluten products, as it would interfere with hormones. Thin buttermilk was allowed in my diet so I didn't miss curd as much.
I included Pesarattu, besan cheela, adai, Ragi dosai, millet idli, kootu, millet bisibelabath, salads, and other veggies in my diet. The everyday follow up on my eating habit with her team, helped me a lot. Their commitment to me motivated me a lot and helped me be more aligned.
Needless to say, I do get cravings on and off. I do crave aloo parathas, sandwiches, rava upma, and few milk kheers. I just take a bite of them on and off but not any more than that.
Many of you who follow me on Instagram know, that I learn yoga online from Ms. Ramya. Her daily yoga classes helped me a lot in my weight loss journey too. I've been practicing with her for the past 1.5 years. During this lockdown, I started learning Pranayama from Mr.Vikas of Panchayoga. Those sessions and daily practice helped me align with my diet well.
I lost 6 kgs in 6 months (in 6 months) in this journey. Although weight loss was not my motive, it happened on its own. I was on tablets (prescribed by a gynaecologist) as well during this period to address my issues. So, I couldn't see any other impact of diet on my health, except the weight loss. Now I am out of tablets and my periods are regular too.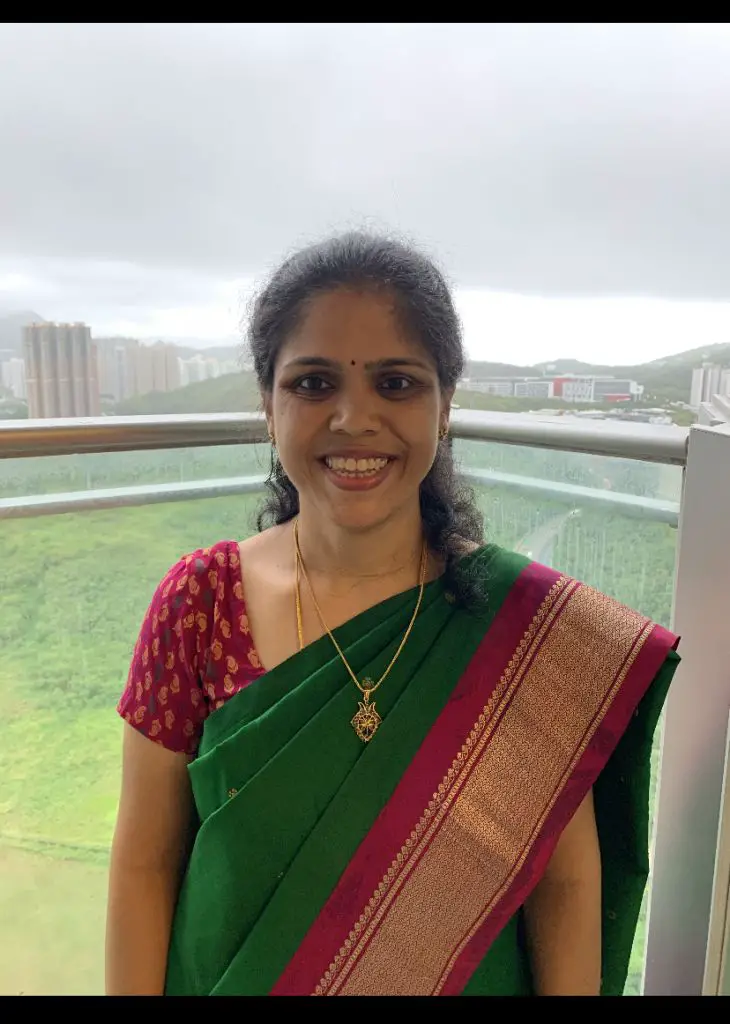 Overall, I feel more energetic than before. Previously I used to feel so lethargic and tired. Now I am eating mindfully.
In this journey, I got a lot of comments from friends and family that I looked pale and sick. On the inside, I feel healthier than before so I didn't bother much. In fact, my hair loss has reduced and my energy levels are higher than before.
I do taste the sweets and dairy items that I make for the blog but I don't over-eat. Portion control is the key.
This was my journey. Diet and workout are the most important things to keep our body and mind fit. Eat Healthy, Stay Healthy.