Navaratri 2019 is starting on September 29. I have posted Navaratri combo food post few years back. That post will be a combination of Tiffin items and sweets. Few of my friends and readers asked me to post dry sweets and snacks combos. Many times when you have sudden guests or if you are a working women, can plan and make this in advance and pack it for guests who come for Navaratri. We used to do friday Satsang at our home in Chennai, and those days, we used to pack murukku and nei urundai for guests who come for the bhajan. So curated a Navaratri combo sweet and snack, along with a Sundal.
Do check out my complete collection of Navaratri recipes, Navaratri Sundal and payasamrecipes.
Weekend Lunch menu will be posted from next week.
Navaratri combo 1
Maladoo
Butter murukku
Chickpeas Sundal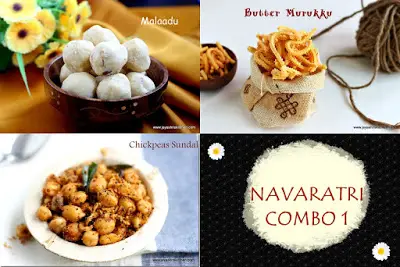 Navaratri Combo 2
Coconut cashew burfi
Ribbon pakoda
Peanut Sundal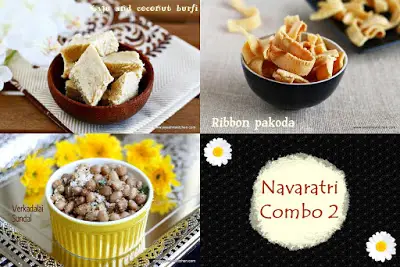 Navaratri Combo 3
Nei urundai
Thenkuzhal
Pattani Sundal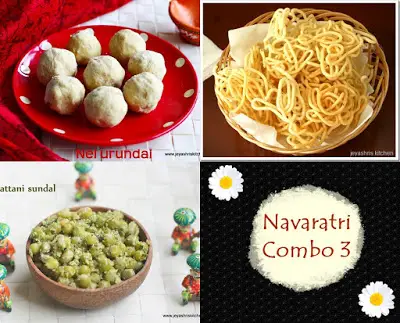 Navaratri Combo 4
Dry fruits ladoo
Rava murukku
Kadalai paruppu sundal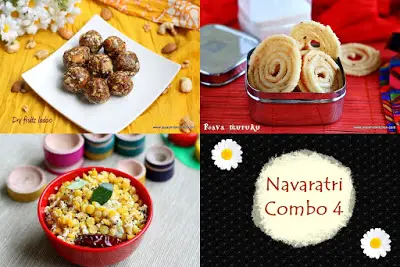 Navaratri Combo 5
Ragi Rava ladoo
Besan murukku
Paasi paruppu Sundal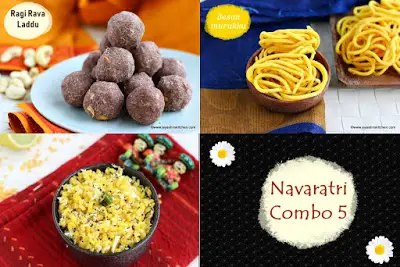 Navaratri Combo 6
Atta ladoo
Peanut murukku
Chaat Sundal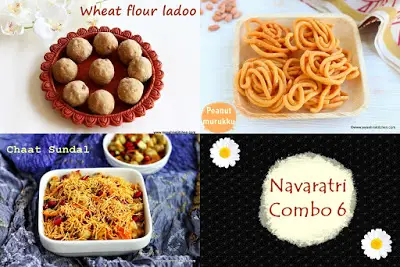 Navaratri Combo 7
Ellu urundai
Coconut ribbon pakoda
Fruit Sundal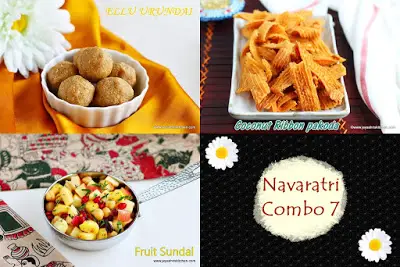 Navaratri Combo 8
Besan ladoo
RAgi butter murukku
Pacha payaru sweet sundal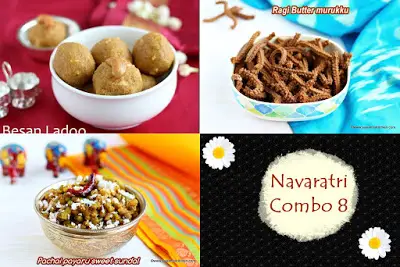 Navaratri Combo 9
Rava ladoo
Kara Thenkuzhal
Navadhanya sundal