Set dosa | Poha dosai |aval dosai is a soft and spongy dosa, a popular breakfast recipe of Karnataka. It is generally served with Vegetable saagu. There are many versions  around the net for the recipe of set dosa, but i adapted the one which was shared by my friend Anita. This dosa she used to make it very regular, especially for weekend brunch. I have noted down the recipe from her but somehow missed to try it on my own. The best part i love in this dosa is no need to ferment the batter. So i soak in the night for the dosa and grind in the morning to make soft and spongy dosas. Try out this set dosa at home and let me know how they turned out. Vada curry also pairs well with set dosai. Check out my other dosa recipes too.
Set Dosa recipe
  Preparation Time : 10 mins+ 8 hours soaking | Cooking Time : 25 Mins |Yields: 10 dosas
     Raw rice or idli rice     1 cup
     Poha |aval |rice flakes    1/2 cup
     Thick Buttermilk  1 cup
      Salt   as needed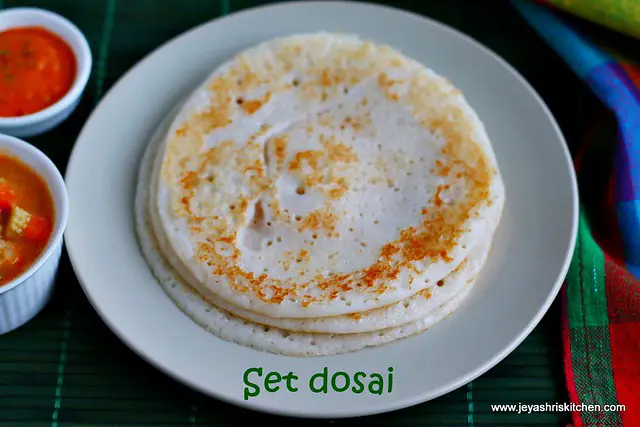 Method:
Wash the rice and poha nicely. Soak the rice in water and the poha in buttermilk . Soak this for 6 hours or overnight too.

Drain the water and grind the rice into a fine paste. Add little water while grinding.
The poha must have absorbed all the buttermilk and will be soft.

Add the soaked poha to this and grind till soft .

Transfer it a container and add salt. Mix well. I forgot to click this  step.
Heat a tawa, and take a ladle of batter and pour it into a small circle.
Add few drops of oil and when one side is cooked, flip on the other side .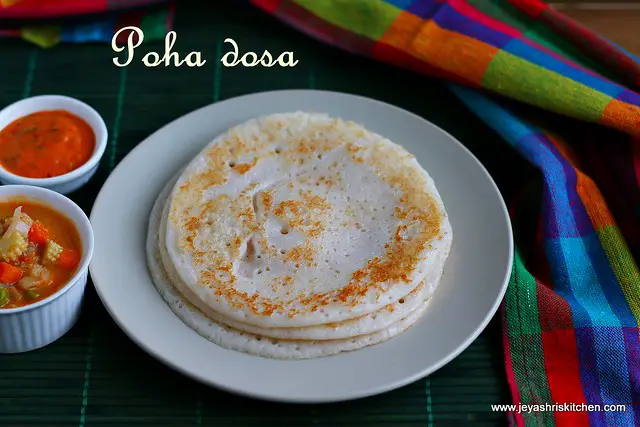 Notes:
The sourness of the buttermilk, as we are keeping it outside for 6-8 hours, will be enough for the batter. No need to ferment the batter after grinding.
These dosas will turn softer only and also this cannot be spread big like usual dosa batter.
If needed you can add 1/4 tsp of methi seeds(venthayam) to the rice while soaking.