Soups are always liked by all at home. Especially during rainy season i make soups very often and almost every week especially after the kids come back from swimming class, they prefer to have warm soup. As i am  going for a short visit to India tomorrow i was cleaning my refrigerator and i have half pack of cauliflower florets and i thought i will make soup with the cauliflower. I just made it as i usually do all other soups. It turned out so very well and we all enjoyed it during our dinner time. the cauliflower soup was quite filling too.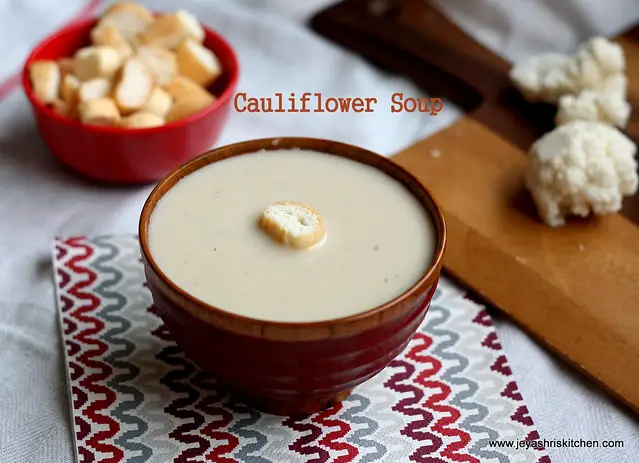 PREPARATION TIME: 10 MINUTES . COOKING TIME: 20 MINUTES. SERVES :3-4
INGREDIENTS:
CAULIFLOWER FLORETS
1 AND1/2 CUP
ONION
1
GARLIC
3-4
WATER|

VEGETABLE STOCK

1 CUP
LOW FAT MILK
1 CUP
SALT
AS NEEDED
PEPPER | OREGANO
AS NEEDED
GINGER
A SMALL PIECE
OLIVE OIL | BUTTER
1 TSP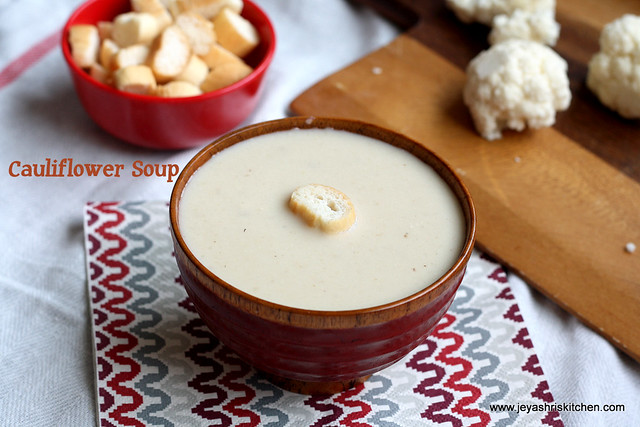 METHOD:
Wash the cauliflower florets and chop the onions and garlic roughly.
In a pan add olive oil | butter and saute the onions and garlic for a few minutes.
Add in the cauliflower florets and saute for 2-3 minutes.
Add 1 cup of water | vegetable stock . Vegetable stock gives a nice flavour to the soup, so don't miss it. Add ginger and cook till the cauliflower becomes soft.
Once done discard the ginger. Allow the cooked cauliflower to become cool and add grind this into a fine puree.
Now add the low fat milk and let this boil for 5 – 7 minutes.
switch off the flame and add salt and pepper just before serving.
You can add oregano and red chilli flakes to this soup instead of adding pepper.
Check out my other interesting soups too