This week i went so fast and i didn't plan any menu till Thursday night. But just before going to bed i soaked some rajma , as i thought i will make a North indian meal. Morning after the usual routine, i planned the menu , which can be made either for dinner or for lunch. This week's meal includes Carrot ginger soup, rajma masala, Kadai paneer, Plain paratha, mushroom puloa and fruit salad with ice cream. Actually this menu didn't much for me to cook . I totally enjoyed cooking this north indian meal and of course enjoyed eating too.
North indian meals are always most welcome among South indian friends. So if you have guests who are a big fan of North indian meal, just go ahead and make this meal.
  The meal i cooked was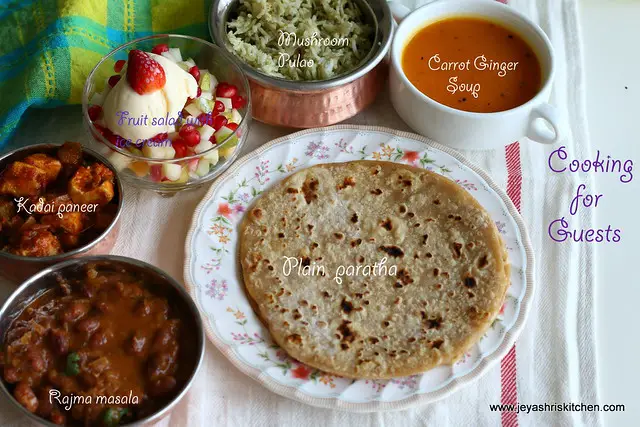 PLAIN PARATHA (RECIPE COMING NEXT WEEK)
FRUITSALAD WITH ICE CREAM ( Just mix any fruits of your choice and serve with a scoop of vanilla ice cream)
If you don't want to serve ice cream, you can  make custard also . I have posted the recipe of custard
HERE
See you next week with an interesting traditional menu next week. Have a great weekend and a beautiful week ahead.