If i am served with idli upma everyday i will be so happy, even i am happy with any upmas and i love all varieties of upma i make at home. One among my favourite upma is Idli upma which is made with left over idlis. My mom rarely make this idli upma with left over idlis . She always makes this with fresh idlis as  i idli upma more than idlis.  Moms are always special. So let me share my mom's version of my most favourite idli upma.
I am going on a vacation for 2 weeks but i have scheduled few posts to keep this space active. Send in your mails regarding any queries and i will try to respond if i get proper net connectivity there.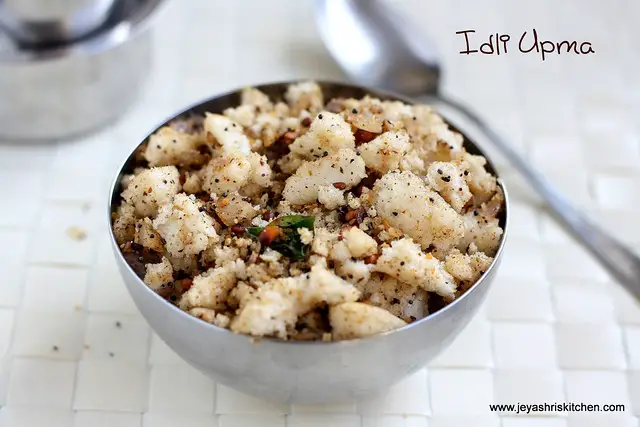 INGREDIENTS:
| | |
| --- | --- |
| IDLIS | 10 |
| SHALLOTS (SMALL ONION) | 7-8 |
| BIG ONION | 1 |
| MILAGAI PODI | 4-5 TSP |
| GREEN CHILLI | 1 |
| OIL | 2 TSP |
| MUSTARD SEEDS | 1/2 TSP |
| URAD DAL | 1/2 TSP |
| CHANNA DAL | 1/4 TSP |
| SALT | A PINCH |
| CURRY LEAVES | FEW |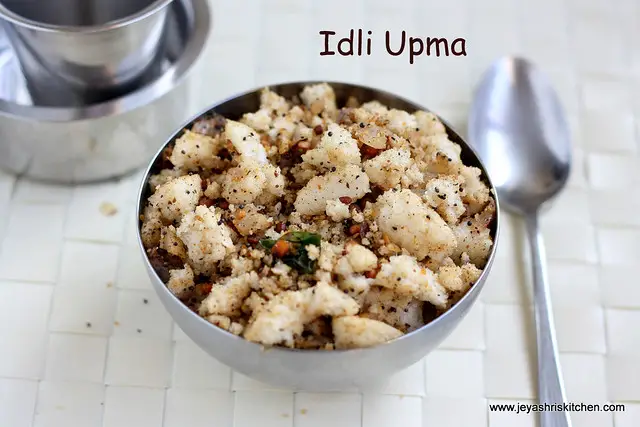 Make idlis and keep it in the refrigerator for 15 minutes. keep it covered. If you are making with left over idlis then you can keep it  refrigerated overnight also.
Take out the idlis and make it into small pieces using hands.
Peel the shallots and chop them and finely chop the big onions. Chop the green chillies too.
In a pan add oil and add the mustard seeds,channa dal,urad dal , green chillies and fry till the onions become translucent. Add little salt at this stage.
Now add the idli pieces.
Now add the idli milagai podi and mix gently to get even coating of the podi into the idli.
Let this be in a low flame for 2-3 minutes. Switch off the flame and garnish with curry leaves.
Serve hot.
I personally love to have any upma with a cup of coffee.     
Note:
Generally idli upma is make with the last end past of the idli batter.
Never skip the shallots as this will enhance the flavour.
If you do not want to add idli milagai powder you can add 2-3 extra green chillies and  squeeze little lemon juice in the last.