This week in cooking for guests series, i have compiled a bit simple and yet super hit menu. The menu includes, Malai kofta, Mushroom pulao, plain paratha and mango sago pudding. As i told before, i will be posting a picture collage of the menu from next week in this series, like how i did for
cooking for guests series 9.  
Actually i planned to post a chaat platter. Since this picture was in my draft, i thought before the mango season ends, i will post this menu. Will post a  chaat platter next week for sure. Now let's see how to plan the cooking of this menu.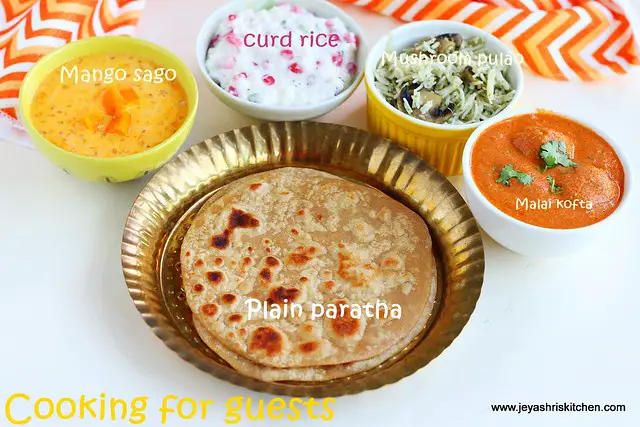 The menu has
Also you can add a Dal and raitha too.
Method:
First make the dough and keep it covered. Soak sago for the sweet too.
Keep the paneer in hot water for the koftas.
Keep rice for curd rice first in a pressure cooker and boil the potatoes too in the cooker itself.
While the rice is getting cooked, make the gravy ready for the kofta.
Once the potatoes are cooked, start making the mixture for koftas. Fry it and keep it aside.
Allow the rice to cool for curd rice and make the curd rice.
Cook the sago for mango pudding and once done allow it to cool completely.
Slice the mushrooms for the pulao and wash the rice and soak it.
If making dal pressure cook the dal once the plain rice and potatoes are done.
When the dal is done, in the same cooker, cook the rice for mushroom pulao.
Once done, follow the instructions in the recipe and make it.
Beat the ingredients for sago pudding in a mixer and keep it in the refrigerator.
Complete the tadka for dal and keep it aside.
Now curd rice, dal, malai kofta and mushroom pulao are ready.
Start making the parathas in the last and keep it covered in a casserole. Put a kitchen towel or a clean cloth over it before covering.