This week's lunch menu is loaded with veggies as i had to clean up my fridge before leaving for a short vacation. In the plate i have my favorites, yes I love pavakai pitlai a lot. I still remember the pavakkai pitlai, my grandmother makes. The magic touch of her hands makes this dish so yum. Even after many years, i could recall the taste and smell of the pitlai she makes. My mom also makes it so yum, but i got the exact recipe and the technique of making bitter gourd pitlai from my sister. She clearly explained me the difference between arachuvitta sambar and pitlai and the right amount of spices for both. And coming to the  pan fried eggplant, i am a huge fan of eggplant and this one i love it a lot. And incidentally this happened to be a no onion no garlic menu platter.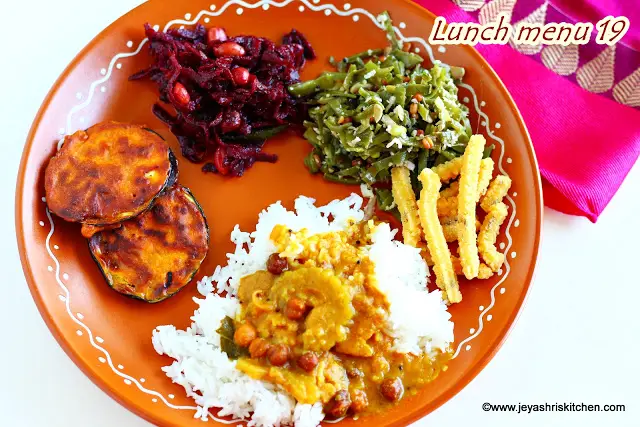 Click on the names below to see the recipe.
On the plate
Stay tuned for more interesting recipes coming up this week.