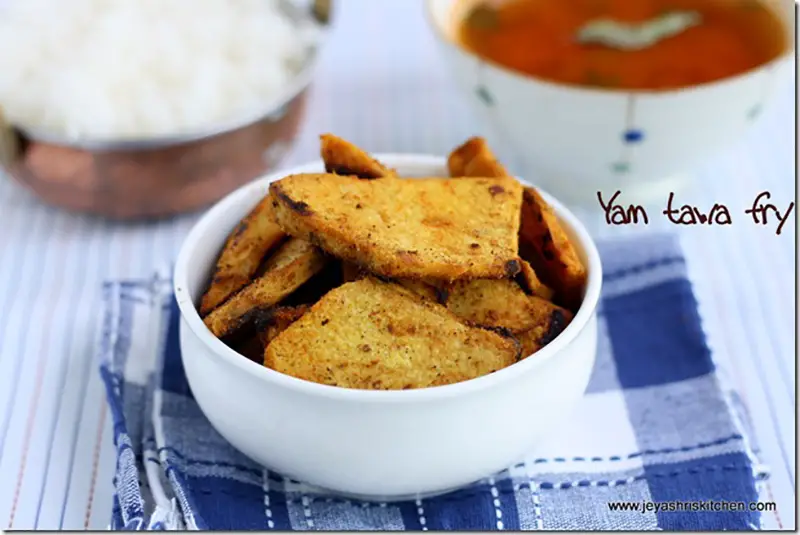 This recipe of yam fry i learnt from my friend . It is surely a treat for yam lovers,like me. Yes me and my Varsha are a big fan of yam .And this method consumes less oil and even my hubby who is not a big fan of yam also liked this. Check out my
sennai kizhangu curry
and
yam kola urundai
too.
Yam fry (tawa method)
  Preparation Time : 15 mins + standing time 1 hour| Cooking Time : 25 Mins |Serves: 2-3
     Yam  250 gms
     Sambar powder  1 tblsp
     Thick tamarind extract   2 tblsp
     Salt  as needed
     Asafoetida  2 pinches
     Oil    2 tblsp
     Curry leaves  few
     Turmeric powder  1/4 tsp
     
     
Method
Cut the yam into thin slices,by removing the thick skin and put this in water. You can use the potato slicer too.
Add salt,turmeric powder and asfoedita(hing) to it and boil for 5 mins. Check to it ,it should not be overcooked. the pieces should be firm after boiling it.
Once it is done,drain the excess water and allow the yam slices to dry completely.
Ensure that it should not contain any water.You can even pat the slices with kitchen towels.
Add sambhar powder to it. Take a thick extract from presoaked tamarind.Add to the yam slices and mix well to get a nice coating of the mixture with the yam.
Keep it in the fridge for 1 –2 hours. Normally i make this for a weekday lunch,so i do it the previous night and keep in the fridge.
Heat a tawa and add a tblsp of oil and spread the yam slices in that. When it is done on oneside flip over on the otherside. Repeat this for the rest of the slices.
Transfer to serving bowl and add curry leaves to it. Serve as an accompaniment for simple Tomato Rasam.